Available now...
ProCAD+ has long been regarded by many as the best CAD package there is for the RISC OS platform.
26/32bit neutral version now available suitable for all recent hardware.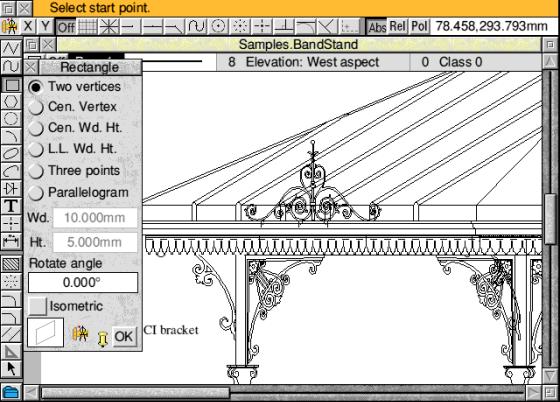 ProCAD+
SOME OF THE SPECIAL FEATURES OF ProCAD+
Context sensitive Help feature linked to built-in searchable manual
Plotting size up to A0 and beyond
Multiple drawing facility
Up to 32 views on up to 16 drawings per session
Drawing file manager
Quick and easy to use
Zoom and Pan
Up to 8 user defined Zoom frames per drawing
RISC OS compliant multitasking
On screen prompt messages option
Up to 23 user selectable and definable colours
Support for !Draw style thick dashed lines and filled areas
Up to 256 drawing layers
User selectable grids - square, rectangular, isometric, oblique
Full screen cross-hair to aid alignment
Ordnance Survey area fills for trees, grassland etc.
Import of Ordnance Survey NTF and MasterMap (GML) files.
Many specialised area fills - walling, wood, concrete, etc.
Easy symbol creation and importation into drawings
Wide range of construction tools
On-the-fly 'snap' facilities for easy positioning
Undo/Redo facility
Cut, Copy and Paste 'ClipBoard' functions
Import and Export of !Draw and DXF files
Import of DWG files
Import of !Vector files (including Vector libraries and !DrawPlus files)
Import andExport in PDF for internet use
Export in Gerber and Excellon formats for PCB production
Text at any size and angle (and mirrored)
4 built in fonts
Up to 32 RISC OS Outline Fonts per drawing
Full automatic dimensioning feature
Quick printing using RISC OS printer drivers
Imports Sprites, JPEG's, Bitmaps (.bmp), GIFs (even animated GIFs!)
Detailed selection feature
Detailed information reporting on drawing objects
'Bill of materials' type reporting feature
User redefinable key short-cuts
Multi-copy tool, including copies following a path
Tools for chamfer, fillet, tangent, angular bisector etc.
Facility for saving start-up settings
Auto-save feature to protect against data loss
User definable units and drawing scale factor
Parametric symbol insertion
Extended projection snaps
Cut-out tool to trim shapes
Text search feature within tool boxes and on drawing
Fully configurable plotter driver for HPGL2 plotters.
Network plotter support
Advanced mapping features including post code lookup and OSGB grid references.
Includes built-in machine readable manual.
A printed manual is avalable as an optional extra.
ProCAD+
Now only £60!
Click here to purchase a copy on-line.
---